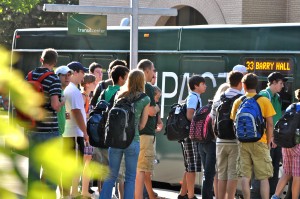 A new report published by SURTC details the findings from surveys conducted of North Dakota State University (NDSU) students during the fall and spring semesters of 2010-2011. Students were surveyed regarding their travel behavior and experience with Metro Area Transit (MATBUS).
An onboard survey of MATBUS riders on two NDSU campus routes was conducted in late 2010, and an online survey of NDSU students was conducted in the spring of 2011. The onboard survey was conducted both by paper and with the use of smartphones. Responses were received from 120 individuals, mostly NDSU students, for the onboard survey, while the online survey received 858 responses, including responses from both transit users and non-users.
The surveys collected information on student access to vehicles, transportation modes used to travel to campus, factors influencing mode choice, use of transit services, opinions on MATBUS service, thoughts on how to improve service, opinions on marketing efforts and preferred methods of accessing information, interest in wireless Internet access onboard, willingness to pay for transit services, and issues concerning parking.
The publication can be downloaded at the following link: North Dakota State University Student Transit Survey, 2010-2011. Questions related to the research should be directed to Jeremy Mattson (jeremy.w.mattson@ndsu.edu).